THE BLACK COUNTRY MEMORIES CLUB
BILSTON - A TOWN OF ITS OWN

4th to 11th November 2006
In 1966 Bilston Borough Council vanished, swallowed up into an enlarged Wolverhampton. So, forty years on, we decided to commemorate this event and to celebrate the days of independent local government in Bilston.
| | | | |
| --- | --- | --- | --- |
| | Once again the Bilston Craft Gallery had kindly let us back into their 1st Floor Gallery and made their facilities available to us. We are very grateful to them. Here we are, at the start of the invasion, setting up the show, with Kath Kiely sorting out the display cases. | | Reg Aston, our Displays Organiser (and Life Member) wields the Bluetack as Megan Fitzgerald-Plummer dashes by. |
| Now its Reg's turn to dash by, though we are almost finished. Reg's amazing collection of photos are on the walls ... | | ... and the cases are filled. Amongst the many local documents in this case are one of Hugh Walters many sci-fi novels - because, as Walter Hughes, he was a long-serving member of the Borough Council. | |
| | This case includes documents lent by sometime Bilston councillor, Harold Marriott, such as formal invitations to civic occasions and two council members' handbooks. | | This case contained a number of medals struck for Bilston's council to commemorate various events; and artefacts relating to the Floral Show, which was supported by the Council and played an important part in Bilston's social life. |
| A variety of other council publications and election leaflets. | | And more local material, covering a wide range of activities. It was noticeable that Bilston Council was not just concerned with the nuts and bolts of the town but active promoted and supported its social life. | |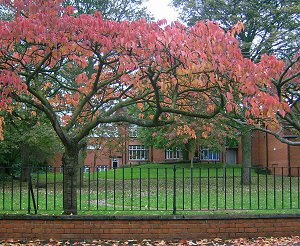 It was early November but autumn was late and the weather mild for the time of year. The gallery was now all set up for the opening.