| | | |
| --- | --- | --- |
| | Tom Larkin an Obituary | |
Tom Larkin, who represented Bilston East, died on August 13, aged 90. He was best known for standing up for Bilston and its proud history. Born in Bissell Street. Tom was nine years old when the Second World War broke out in 1939
Tom was a good friend of the Bilston Magazine and often contributed articles, promoted his history books (including Whatever Happened to the Real Black Country) and regularly put the Editor straight on historical facts.
He was a fierce critic of government changes which impacted Bilston in 1966 and later of the creation of the West Midlands County Council in 1974.
The passing of the Local Government Act on April 1st 1966, ended Bilston's independence as it became part of Wolverhampton. He who also served on the enlarged council following the changes in 1966. The move also marked the end of Bilston Municipal Borough Council, which Mr Larkin had served on, despite fierce opposition and a campaign against the changes.
The historian described it as a "complete destruction of 19 historic councils" which were replaced by enlarged local government bodies "achieved by forced amalgamation".
Mr Larkin was subsequently critical of the next changes made by the Government in 1974 which saw the creation of the West Midlands County Council, or "the metro" as it became known, which lasted for 12 years – a move he called a "total disaster".
Councillor Stephen Simkins, deputy leader of City of Wolverhampton Council who represents the same ward the historian did, said: "Tom was a fantastic councillor for Bilston East and a genuinely kind considerate loving family man. A true socialist and strived for social justice for all, he has helped so many people in Bilston while in office.
"He was a real mentor to me and a dear friend to myself and all who knew him. Tom was always ready to give talks about many subject especially of his beloved Bilston and the Black Country. Tom, you are and always will be the very best. "I loved him dearly and I learned so much from him," the councillor said. "He's one of our greatest ever politicians."
Earlier this year the Wolverhampton Civic & Historical Society (now The Wolverhampton Society) agreed to Tom's nomination for the 'Richard Rhodes Award'. It's a paperweight, made of Bilston cast iron, given to local historians who have made a significant contribution to research and dissemination of knowledge on Wolverhampton's history.

"Unfortunately the current pandemic had somewhat curtailed the Society's activities and delayed the presentation of this and other awards.

Barry Hodgson, Blue Plaques Secretary, said "Tom was a worthy recipient. The paperweight shown below was handed over to Mrs. Emily Larkin, and she was able to show it to her husband, before he died, on a hospital visit."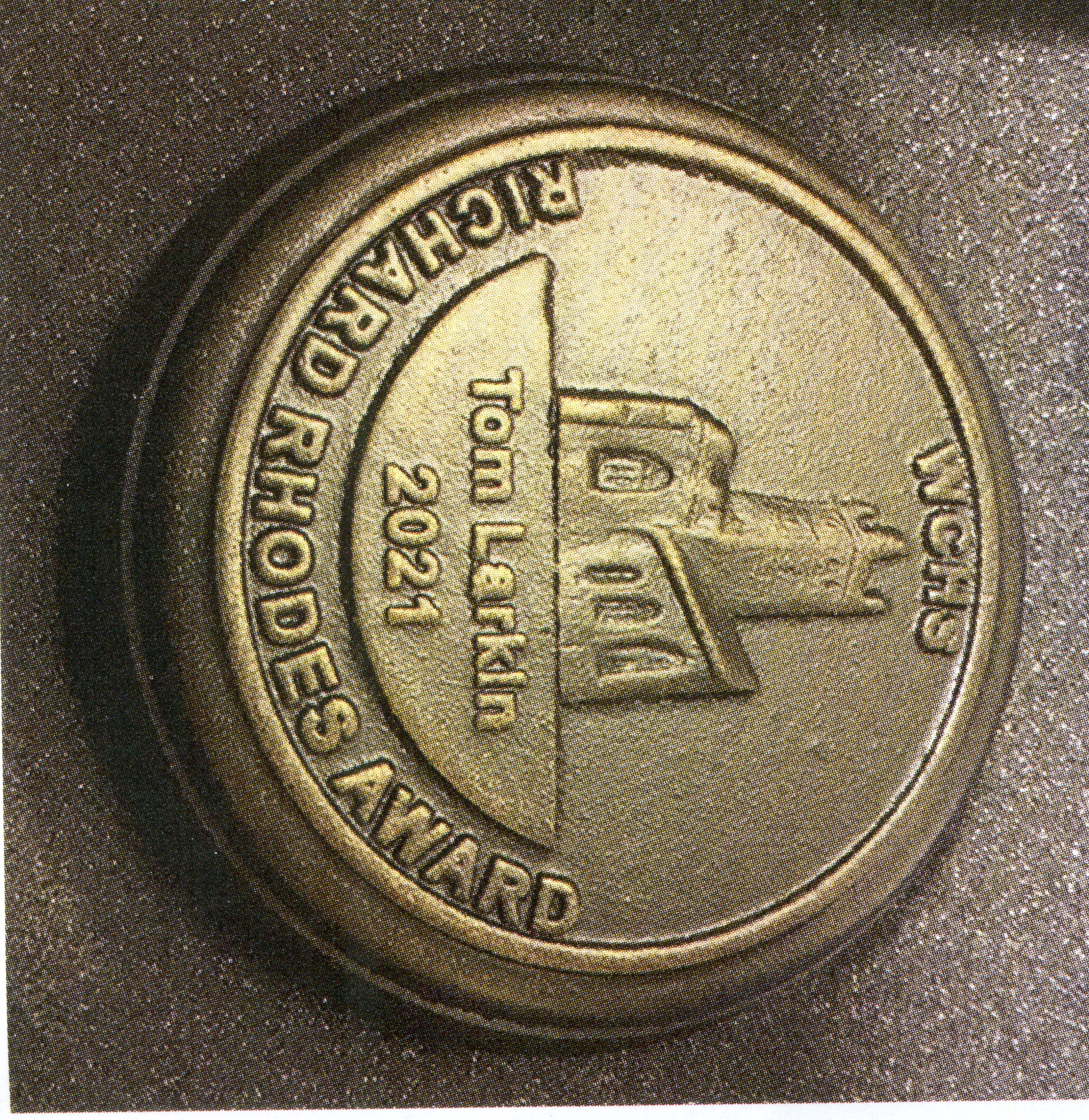 Tom was a founder member of the Black Country Memories Club and fellow member of the club, Megan Plummer described Tom as a man on a mission. She explains, "I don't think I've ever met Tom when he didn't have his briefcase under his arm, and many people have asked me what was in it. Well, Tom had a mission in life, and that was to preserve his beloved Bilston, its history and to showcase the Black Country and its people.
During his days working for Bilston Council, Tom was instrumental in the fight to prevent the 1966 merger with Wolverhampton, and although that fight was lost, he would never forget how hard the local people fought against the idea.
Like so many folks, Tom never missed an opportunity to have a dig at Wolverhampton for neglecting what was once a thriving town, in its own right. He always wanted to let the world know that times were hard for many folk and he wanted to showcase the hardships, and the daily activities and sacrifices people made in order to survive the harsh living conditions.
A committee was soon formed and the club held regular themed events and guest speakers would be invited to come and give talks on various historic topics, the Club adorned the walls of the venues with historic photographs and ephemera.
Tom was always keen to give a talk at every opportunity, he always gave interesting talks based upon the history of Bilston and the Black Country.
His commitment as a Labour Councillor, a historian and author, is the legacy that this gentleman left for future generations.
So, when people ask, 'What was in his briefcase?' I tell them, its full of passion, enthusiasm and a valuable record of Tom Larkin's Black Country Memories, mission complete.
Tom will be sorely missed but he will remain in the hearts of the committee of the Black Country Memories Club and its members. Rest In Peace dear Tom."