THE TALBOT AND WELLINGS FAMILIES
A few musings and discoveries in the course of
Black Country Family Research
by Jim Talbot
(forever a Bilstonian, no matter where I live)

What spurs someone on to trying to discover his or her roots? No doubt the reasons may be many and varied, but in my case it has been a life-long interest in local history, wherever I have lived, coupled with perhaps a need to feel rooted to the place of one's birth. For me this was heightened by the encouragement from the Thatcher Government to "get on my bike and find work", a consequence of which for many was the necessity to move away from family. I did just that, leaving my Black Country home to live first of all for over twenty years in Wessex and, latterly, in the North East of Scotland near to my wife's roots.

Of course, perhaps like many people embarking on family history research, mistakes have been made; not least, many a false lead was followed. I didn't ask the right questions of the right people and, most importantly and perhaps the most serious flaw, I didn't ask enough questions of those who would have remembered people and connections whilst they were still alive. Furthermore, genealogical research, despite the advent of the Internet, is somewhat hampered by the fact that I live some five or six hundred miles away from primary sources of information! However, following several years of sporadic efforts, I suddenly seem to have "broken through", or at least on one side of the family! A great help in this was my dear cousin Edwina Picken (nee Wellings) and I remain indebted to her for her help, even though she is no longer with us. Before she passed away, she and I regularly exchanged emails containing various snippets of information and thoughts on this or that aspect of family history, and this continued even in the early stages of her terminal illness. Even now, I refer back to the original emails we exchanged.

I will deal almost exclusively with the Wellings side of the family, since this is the side which has passed on the most material down through the generations (although there are still many gaps). The Talbots have proven to be much more elusive, not least because it would appear that past generations were somewhat averse to completing census forms!

The Talbot Family

So, to deal with the Talbots first - and this will not take long I'm afraid. My father was Richard Ernest Talbot, a toolmaker virtually all his life with GKN Sankey in Bilston. He was a skilled man who carried his work skills home to various "tinkerings" in his garage/shed at home. If anything broke, Dad would almost invariably fix it, often fashioning new parts from whatever lay around, perhaps more than a little in the mode of Heath Robinson. He had the most enormous hands (from hard manual labour working with steel) and yet could execute the most delicate of manual tasks such as repairing a watch.

Despite his disability (he had lost his leg following a serious accident whilst working on the sheet metal shears at Sankeys, Bradley) and ill health and phantom pain from the limb that was no longer there, pain which dogged him throughout his days, he was always cheery and had a wicked sense of humour. The tales he told of the various pranks played at GKN would fill a book on their own … if only I could remember them all! (I do remember one or two, but that will have to wait for another time). In another life he could perhaps have been an inventor, and he occasionally sent in various designs and ideas to an "ideas box" that appears to have operated in his workplace.

His early life had been tragic, losing his first wife to consumption and being left with a young daughter to raise (my sister, Brenda). Relations with his own immediate family were poor but deteriorated when no offer of help was forthcoming at a time when he most needed help, and as a result he virtually cut himself off from his family for many years. This is one reason I have found the family research on this side of the family virtually impossible. Even many years later, when some bridges had been rebuilt, he found it painful to recall this period in his life … and then he met my mother, Vera Wellings, reputedly a blind date at a dance in Bilston.
They were married at St Leonard's Church in 1950, with the Rev. John Charles Ayling officiating. The wedding was a fairly quiet affair despite the fact that mother was the daughter of the Mayor of Bilston at that time, Cllr. James Edward Wellings. The daughter of a Conservative councillor marrying an ardent socialist! (Later, when I came along, we had some interesting political debates in the family)!

She soon sorted my father out, by all accounts - he had found the role of single parent very difficult at a time when single parenthood, and particularly that of a male looking after a young daughter, was fairly rare.

I came along in 1954 - and must have been a bit of a shock for a 42 year old mother! However, she always said in later years that having a young child at such an advanced age (unusual in those days) was what had kept her active for so long.

My mother, Vera Talbot, about 1928. Later on this page are photos of Deborah Robinson. I think there is a family resemblance..
Mayor Wellings and party.

left to right: Richard Talbot, Vera Talbot, Mayor James Edward Wellings, MC (unknown), Mayoress Sara Wellings, Kenneth Young, Beryl Young.

Photograph taken in 1950.
The only information I have regarding the earlier generations of the Talbot side of the family is that my Grandfather's name was William Henry Talbot and that he was born in about 1891 - oh, and I do have a hand tinted photograph of my Great Grandfather Talbot (but as yet, no forename and no date or place of birth). Sadly, nothing appears to have been recorded about the Talbot females.

I suspect that my Grandmother Talbot was dead by the time I was born and I never remember being told her name, although I do know that my father was particularly close to her - again painful memories buried as far as he was concerned. I vaguely remember my father telling me that his family (perhaps his Grandfather) had been jewellery makers in Birmingham (so maybe in the Jewellery Quarter there), and maybe that is where the inherited dexterity originates.

So, the hunt for the Talbot ancestors continues!

Great-Grandfather Talbot. A hand tinted photo dating to about 1890.
The Wellings Family
So, to turn to the relatively more transparent Wellings family.
The Wellings Girls.

left to right: Vera Talbot (nee Wellings), Sarah Wellings (nee Bunce), Beryl Young (nee Wellings).

Photograph taken in about 1968.
My mother was born in 1912. She was bright but apparently fairly "feisty" to use a word in the modern idiom. My Grandmother and Aunt both recounted tales of arguments between my mother and Grandfather in which Vera (my mother) would always have the last word, even if this meant peeping around the corner of the house, saying her bit, and then running off through the hedge at the rear of Welwyn, 31 Shale Street into Hickman Park until the heat (and Grandfather's fury) had died down. (Hmmm … that reminds me of at least two other people I know, myself included - and I won't mention the other because she would hit me!).
Vera was the oldest daughter in a family of two boys (Thomas ("Tom") and Jack, both now sadly departed) and a younger sister, my dear Aunt Beryl. Vera spent much of her early years caring for my Grandmother who was unwell for some considerable time, and before that, her grandmother, looking after the family and fitting in a calendar of local dances, whilst also volunteering as a Red Cross nurse.
| | |
| --- | --- |
| Vera Wellings (third nurse in line) as a Red Cross Auxillary Nurse. A procession making its way from Shale Street into Hickman Park, perhaps at the end of the second World War. | |
Grandfather James Edward Wellings

It was, by all accounts, a typically strict upbringing in the style of the Victorian/Edwardian period. In fact I was frequently told as a youngster: "You're the first grandchild to be allowed to do that"…whatever "that" was! Grandfather was my hero. He was a quiet (except when riled) and kindly man with a smiley expression.

Grandmother ("Sal") was also a quiet, unassuming lady, a good cook who always had nice cakes on offer, freshly baked in a wonderful black, coal-fired range.

I visited several times a week, either with my mother, or with my sister, much later on my own. As a small child I remember my Grandfather sitting me down on a small stool next to him beside the range. I would watch him doing his accounts for his coal business. He would sing hymns to me, which I loved (his favourite was "Abide with Me", and it remains as my favourite to this day).
Grandfather Wellings was Mayor of Bilston in 1950.

He had served as a Conservative Councillor for the High Town Ward in Bilston since 1944, holding the position of Chairman of the Water Committee and Vice Chairman of the Public Works Committee.

He had set up his own business, JE Wellings and Sons, coal coke and haulage merchants, which he operated with Tom and Jack. I vividly remember them returning from deliveries or from working in the coal storage yard behind the cinema in the High Street (in a cul-de-sac which ran behind the houses in Hartshorn Street), and another in Millfields, as black as Black Country soil! Ablutions followed in the bathroom, which led off the kitchen at the back of the property, always accompanied by the singing of his favourite hymns and the wonderful smell of shaving soap.

James and Sarah Wellings, Mayor and Mayoress of Bilston, 1950-51
The coal yard seemed to a small child to be a rather hotch-potch affair of boarded storage areas where different fuels were heaped; a small office if I remember correctly; and a pedestrian alleyway which ran between the houses in Hartshorn Street and exited there. Grandad had originally delivered coal by horse-drawn cart and horse-drawn canal barges, and this area was also the area where the Shire horses had been stabled. In addition, Grandfather, according to mother something of a frustrated farmer (something I have inherited), having a love of farm animals, had occasionally kept the odd pig, a goat and a variety of bantams and other rare breed fowl - and maybe this is where I acquired a similar interest in poultry keeping.
Hartshorn Street, bedecked with bunting.

I remember this area (at the end and to the south west side of Smith Street) behind Hartshorn Street having a fairly open aspect created by the triangle of land behind the cinema and between the backs of the properties in Hartshorn Street and Broad Street.

His yard was his little bit of a farm in the middle of Bilston. I also remember distinctly at least a couple of occasions when a bull from the nearby slaughter house escaped and ran amok in Hartshorn Street.
I was told as a child that some of the barges that I often saw sunken into the bottom of the canal at the Pothouse Bridge in Bradley had belonged to my Grandfather - and had been sunk there during WW2 by the Home Guard: "to stop German submarines reaching the Midlands"! I don't doubt that there may be an element of truth in this belief - tinged with my father's wicked sense of humour, no doubt!
Humour - that dry, mickey taking humour so redolent of the Black Country, the sort of gentle leg-pulling that leaves you thinking: "well there may be an element of truth in that story" - was a regular feature of any gatherings of the Wellings clan, particularly in later years after my Grandfather had passed on. I remember wonderful tales being recounted (including one about Jack being attacked by a cockerel) - again, I wish I could remember them all - by my two uncles, who were such talented raconteurs that they could quite easily have formed a double act at Bilston Theatre! Oh, I wish that I had written them down at the time!
Holidays were almost invariably taken in North Wales, and I remember one year when the coal lorry was used to transport at least some of the family to a regularly used and fairly remote cottage in Snowdonia, which had been used by climbers training for the Everest expedition. There must have been a reason to make the 120 mile journey by coal lorry, but I'm blowed if I know what that reason was - a long way in a shakey old jalopy!
At some point in those holidays there would be at least one day when the entire Wellings family would congregate at the cottage, including my Aunt Beryl and her husband Kenneth Young. They were business people too, owning, running and working in various hairdressing salons in Bilston, although Uncle Ken had originally trained as a butcher and worked in his family's butcher's shop in Bilston. At one time they owned Bilston's oldest (and reputedly haunted) building, the Elizabethan house which became their salon at the town end of The Orchard.
| | |
| --- | --- |
| Ken Young at Bridgnorth | Uncle Ken was my other great hero in the family. He was a gentleman in all respects. Always very properly dressed, often sporting a Crombie and bowler hat, cravat and smart suit, he looked the part too. He had served in the 8th Army in North Africa and in Italy after being evacuated from Dunkirk. As with many of that generation, it is amazing that so many survived this period given what they went through in WW2, and perhaps not surprising that Armistice Parades and Services were so important to my uncle and his generation. |
Uncle Ken was an accomplished horse rider and participated in the show-jumping events at the Bilston Flower Show, also participating on the Flower Show Committee. In so many respects, it is to my Grandfather and my Uncle Ken Young that I owe so much. They were both, and to this day remain, a great influence on my own life.
| | |
| --- | --- |
| The Bilston Flower Show Committee sometime in the 1960s. Ken Young is on the extreme left, wearing riding breeches. | |
Anyway, as they say in the Black Country: "Yo'am gooin' all raand the Wrekin" - so I'd better get back on track!
James Edward Wellings was born in 1890 in Bilston. His father was one William Wellings, born about 1862, possibly in Sedgley, and his mother was Emma (possibly Boad) also born about 1862. Tragedy struck here too, and again has made family research difficult. I suppose that, whenever a traumatic event occurs, the last thing that anyone wanted to do was to keep dragging it back to the forefront of the mind (interesting when one considers that although recent trends in dealing with traumatic events involve "counselling" and talking things through, a very recent study has shown that maybe the old fashioned way of not talking about it helps recovery much faster!). William Wellings, an iron foundry worker in Bilston (but I don't know at which foundry) was killed in an industrial accident. As yet I have not tracked down exactly when, where and how, although I suspect that a possibility is that this was one of the frequent boiler explosions which periodically devastated iron foundries and led to much loss of life. Emma, his wife was left with four children, namely William, Albert, Rose and young James Edward.
By the 1901 Census, Emma had remarried an Edward Probert, and two additional children were now present, Edward (aged 7) and Walter (aged 5) and all were registered under the surname Probert. (Incidentally this had caused some considerable difficulty in being able to track down my Grandfather in this Census since I had been searching under the name Wellings!). So the fatal accident to William Wellings and the remarriage to Edward Probert must have occurred sometime between 1890 and 1893. The Probert family are listed as living at 33 Hartshorn Street.
Albert Wellings?

There now follows a gap in family history (although there are rumours of a schism of some sort) but it would appear that the original Wellings children eventually went their separate ways.

William moved to Shrewsbury and became a market trader. Albert became a coal merchant - and maybe this is where Grandfather entered the coal trade.

It is possible that a photograph (shown on the left) of an unknown WW1 soldier is of Albert.

Rose becoming a licensee in Moxley.

What is known is that James Edward Wellings married my Grandmother Sarah Bunce in 1911 at St Leonard's Church.
Sarah Bunce had tragedy in her early life just as James Edward Wellings had in his, and maybe they found soulmates in each other on this common footing, for soulmates they were for the rest of their lives.

Sarah was born in 1887 in Bilston. Her father was Joseph Bunce, born 1859 in Bilston, and her mother was the beautiful Deborah Higgs, born 1862 in Bilston.

Joseph Bunce, a kindly and gentle looking man, was also an iron foundry worker and also, like James Wellings' father, died as a result of an industrial accident at a Bilston founday. I have been told that whilst puddling iron there was an explosion and he was covered in molten iron. Mortally wounded and badly burned, he survived for a week or more and finally succumbed on the 29th August 1891. Sarah was just four years old.

Joseph Bunce
Believed to be Elizabeth Bunce

In similar circumstances to those of James' mother, Sarah's mother, Deborah, also remarried, to a famous Bilston character, Thomas Robinson, also known as "Tarpole".

In the 1901 Census, Tarpole Robinson and his family, including Sarah Bunce, Florrie Bunce, Jemima Robinson and Beatrice Robinson (note that the original name had been retained) were listed as living at 31 Shale Street, just around the corner from James in Hartshorn Street.

It's not difficult to imagine how the two, James and Sarah, met, chatted and became sweethearts leading to marriage - a case of the girl (almost) next door!
I'm not sure whether I remember Great Aunt Florrie, but I certainly remember Great Aunts Jemima (or "Aunt Jimmy") and Beatrice. Aunt Jimmy was a very petite lady who always dressed in her finest, and she was very particular about how she looked. She married Uncle Jack Rowley. Their grandson, John Rowley Tonks, has written an account of Tarpole Robinson which was published in the Black Country Bugle some years ago. Deborah Higgs died in 1944.
And so to the ancestors in that lineage who are most distantly removed in terms of time. Joseph Bunce's parents were Samuel Bunce, born 1832 in Bilston and Elizabeth (possibly Parish/Parrish?), born 1833 also in Bilston. Both were listed in the 1881 Census as "Puddlers in Iron". (I have checked with the Black Country Museum and apparently it was not unknown for women to be employed thus). At the time of that Census the family were listed as living at 20 Green Croft, Bilston, a place that I had walked past as a child on many occasions without knowing the family connection! Joseph, Sarah's father and my Great Grandfather, was listed as a "Sheet Iron Shearer" and was aged 22. His siblings were Thomas, aged 17, a "Holloware Mounter (Iron)" (holloware are pots and pans), George, aged 14, a scholar, Arthur S., aged 12, a scholar, and Martha aged 11 and also a scholar, and all born in Bilston. Research is continuing.
On my Grandmother's maternal side, Deborah's parents were listed in the same 1881 Census as Samuel Higgs, born 1828 in Wolverhampton, and Jemima (possibly Winsper) born 1828 in Bilston. They were shown as living at the time of the Census at 40 Bloomsbury Street (Blakenhall) Wolverhampton. Samuel Higgs is shown as being a "Licinsed Victualler" (presumably his spelling!). Deborah was 19 at the time and no occupation was given. Also present were William Higgs, 17, a "Tin Plate Worker", Fanny Higgs, 14, John Higgs, 11, Benjamin Higgs, 9, and Gertrude Foster (grand-daughter) aged 1.

Intriguingly, although Deborah, William and Fanny were all born in Bilston, John and Benjamin are recorded as having been born in Snydle, Yorkshire (which I think is in Calderdale). The equally intriguing Gertrude Foster is recorded as having been born in Wolverhampton. I vaguely recollect an "Aunt Gertie" from Yorkshire, so maybe this was one and the same? Research is continuing.

Believed to be of Samuel Higgs and his wife Jemima (possibly Winsper) taken about 1880.
Deborah Higgs in her early twenties and shortly after the 1881 census.
Since there is a family connection with The Swan Inn, Bilston (Tom Robinson, Deborah's second husband became the licensee), I wonder whether Joseph met Deborah at her father's hostelry, his local perhaps, whilst slaking his thirst after a hard day spent shearing sheet iron. Was Deborah a barmaid working for her father?

Look at the photograph of Deborah.I think you'll agree that she was a stunningly attractive woman - and incidentally, her looks would seem to have passed through the generations, with my mother, and later my daughter, Hetty, (who is currently reading law at Aberdeen University), both sharing a distinct resemblance!
| | | |
| --- | --- | --- |
| | Deborah Robinson and Beatrice Robinson, about 1907, at the Swan Inn, Bilston | |
left: Deoborah Higgs about 1864

right: Deborah Higgs about 1870.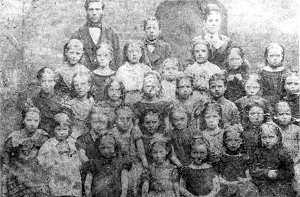 Deborah Higgs (extreme left at rear) at St. Luke's School, Bilston.
Photograph taken about 1870.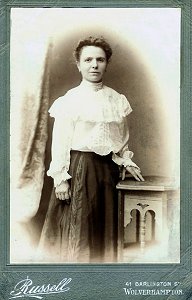 Deborah Robinson about 1901
Note that the understandably troubled expression of the young Deborah
has been replaced by that of a confident, mature woman.
What other features would appear to have passed down the generations?
The feistiness is definitely still there, and a certain determination to stand up against a perceived wrong. Deborah most definitely had this trait - she is apparently absent from the 1911 Census, a tactic that suffragettes and suffragette sympathisers used as a means of protesting against the lack of equality in the voting system. As far as appearances and traits are concerned, my son, an engineer with the oil industry in Aberdeen, bears some resemblance to both Joseph Bunce and also to James Edward Wellings. He would also appear to have inherited certain "transferable industrial skills" which just may have a genetic component, although he could well have inherited a double dose as far as this is concerned since both sides of the family are that way inclined.
What did I inherit? My father's dexterity and inventiveness with bits of what everyone else refers to as "that junk your father keeps in his shed". Ah! a man must have a shed for "tinkering" - especially if he is a Midlander, and most particularly if he is a Bilstonian!. Oh! and his nose, which my Great Grandfather Talbot also possessed, and which was the bane of my life and the butt of many a joke when I was a school kid at Bilston Grammar (yes, I was "Grammar bug", but that's another story!). And some would say I have inherited his sense of humour: so watch out!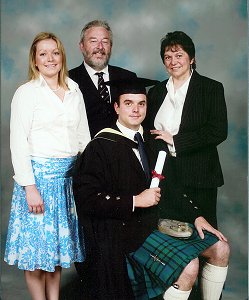 The Talbot Family at William's graduation from Aberdeen University in 2005
Hetty, Jim (me), William, Frances.
Finally, what have I learned from this exercise? Well, apart from some very useful research skills, I think I have come to realise that, despite adversity, no matter how tragic that adversity may be, families do survive and thrive; and secondly, and to put it in the local idiom:
"Yo' con tek the Boy out of Bilston, but yo' con't tek Bilston out of the boy"!