Sankey's were big. They started off by being big in Bilston, then they got to being big nationally and internationally. They ended up as part of the GKN Group. It seems that if it was made out of metal, they made it. They were popularly known for domestic hollowware, for Sankey-Sheldon steel office furniture, and for Sankey vending machines but their range of products was much wider than that.
This history of the firm has been constructed mainly from George T. Lawley, History of Bilston, John Price and Sons, Bilston, 1893; and from a history of the firm, doubtless provided by the firm, in the Wolverhampton Official handbook for 1953.
According the firm's own history Joseph Sankey was born in 1826 and became a workman in a blankshop in Bilston making and japanning tea trays. A blankshop was a factory, usually a small one, which made items, usually of domestic ware, taking them up to the point where a finish was to be applied. These blanks were then sold on to other factories where a finish, such as lacquer or enamel, and any decoration, was applied. Blankshops often made only one sort of blank and there seems to have been a tremendous demand for tea trays. In view of Sankey's later history it seems most likely that this blankshop made tin trays, stamping them out of sheet iron. The alternative would have been papier mache.
| | | |
| --- | --- | --- |
| Sankey's most used trade mark. It is not known when the mark was first used nor why the sphinx was adopted. | The company's history says that at some point Sankey and two other workmen, Hartill and Jackson, set up on their own account in Dudley Street, Bilston, presumably also making blanks. Hartill died in 1854. In that year Jackson took Joseph Sankey into partnership. Lawley's version, which is practically the same, is that "the business was founded many years ago in a small blank tray manufactory, near High Street, which was owned by Messrs. Hartill and Jackson, and was eventually transferred to its present site, in 1854, where new premises were built and the business continued on a more extended scale by Messrs. Jackson and Sankey." | Sankeys Neptune trade mark.It is not known when the mark was first used nor why this figure was adopted. |
In 1861 this partnership was dissolved and Sankey took over sole control with Jackson as his foreman. The firm's history says "the business prospered and the range of products increased from the original tea trays to embrace many kinds of hollow-ware such as frying pans, bake pans, shovels, kettles, etc.".
Lawley continues the story: "In 1878, Mr. Sankey took into partnership his eldest son, Mr. John William Sankey, who had for some years previously taken an active part in the management, and who on the death of Mr. Joseph Sankey, in 1886, took over the entire control of the business. In this year, the old-established business of the late Mr. J. P. Whitehead, blank tray manufacturer, of Bow Street, was bought by Messrs. Sankey, and ceased to exist as a separate concern". By 1874 the firm employed 65 people.
The company history records that "About 1886 it was becoming evident that armatures for dynamos would in future be made from charcoal sheet iron instead of solid wound cores and early in 1887 Sankey's booked their first order for stampings of this nature for Siemens through a merchant firm in London, Harold and Jenkins. It is believed that their first stampings were made form the scrap centres of rims of the new bicycles which were coming into vogue at that time.... That was the beginning of the Electrical Laminations business. In February 1899 Sankeys bought this business outright from Harold and Jenkins, who subsequently acted as their agents".
Lawley says that "In 1890, the firm patented a new process for the decoration of tin plates, and during the last two years an entirely new branch has been added in the manufacture by this process of their patent "Neptune Art Ware," comprising trays, waiters, candlesticks, bread baskets, &c., in various shapes and of different designs." To judge by a catalogue issued by the firm in 1910 this was a system of embossing designs onto sheet metal which was then used to manufacture domestic items. The catalogue offers such items in "coloured" form, so the process may have included a way of adding some sort of permanent colour to the metal or parts of it. In March, 1891, Frederick E. Sankey, and George H. Sankey were admitted into partnership. Presumably these are sons of J. W. Sankey. But according to the Victoria County History of Staffordshire, Volume 2, p.56, "the incursion of [Joseph Sankey's] sons John and George into the electrical field dates from 1886 when they pioneered the manufacture of electrical laminations for motors, dynamos and transformers". This lead to expansion of the Albert Street works in 1893 and the purchase of the Bankfield works in 1900. All electrical stampings were moved there.
In his 1893 book Lawley describes the company as follows:
Among the chief manufactories of the town should be mentioned the Albert Street Works of Messrs. Joseph Sankey & Sons, who are now large makers of wrought-iron stamped and pressed hollow-ware, comprising frying pans, basins, bowls, milk pans, baking tins, tea kettles, shovels, &c., besides various special descriptions of iron stampings for the different Foreign and Colonial markets, such as rice bowls, dished sheets, &c., as well as paint kegs and oil drums, for which they have special machinery and plant adapted to the rapid turning out of large quantities. The oldest branch of their business is the manufacture of blank trays and waiters, which is peculiarly a Bilston trade, being closely allied to the japanning trade, for which the town has long been noted. ... There has always been a cordial relationship subsisting between the firm and its employees, of which a substantial proof is afforded by the erection and furnishing early this year of a large and comfortable room, which is given to the workmen for their own use as a Mess Room and Recreation Room, and in connection with this a Workmen's Library has been founded
The company history says: "Early in 1900 a large proportion of the Albert Street factory was engaged in the manufacture of brass and copper jugs, hot water cans, fern pots, trays, etc., decorated with embossed artistic designs. Later this department was turned over to the manufacture of oil cookers and heaters".
In 1902 the firm was turned into a limited company with J.W. Sankey as chairman.
In 1904 the Manor Iron works were purchased from Stephen Tompson & Co. Ltd. in order to acquire production facilities for the silicon steel sheets which were needed for the electrical laminations business. These works were two miles away from the Bankfiel works but had a direct canal connection. Here the company later produced Sankey Silicon Steel Sheet, under the brand names Lohys, Stalloy and Crystalloy, which were sold throughout the world.
The company's later history seems to have been one of expansion and diversification. In 1909 they started stamping steel body panels for Arrol-Johnston cars. They produced the first pressed steel artillery wheel, which replaced the wooden wheels which vehicles had used up to that time. In 1910 they acquired the Castle Works, Hadley, Telford and switched all automotive related production to that site. It was there that the company also developed Sankey-Sheldon office furniture and produced agricultural implements.
The advert below dates from some time in the early part of the 20th century.In this advertisement the trade mark they mention is "Neptune". This trade mark may originally have been used only on those products made using their patented process (whatever that was).
| | | | |
| --- | --- | --- | --- |
| | By this time they had two works in Bilston, one in Ettingshall, and one at Wellington. Note too that they were diversifying into such things as filing cabinets, and were keeping up with newer developments by producing goods for the electrical trades, as well as vehicle wheels and brake drums. | This is the company's letterhead in 1910 (by courtesy of Reg Aston): | and this is an enlargement of part of it showing the three trade marks Sankeys were using: |
In 1929 the company was taken over by, and became a subsidiary of, John Lysaght Ltd., which was shortly afterwards acquired by G. K. N.. But Sankeys maintained its original name.In 1929 the company acquired the Bath Street Works in Bilston. The company's history claims "much of the pioneer work in connection with the fabrication of jet engine combustion chambers was carried out at Albert Street many years before jet aircraft flew". But the components for jet engines were actually made at the Bath Street works.
The inter-wars years were kind to Sankeys. As the VCH says: "the development of the national electricity-grid scheme created a large demand for laminations for dynamos and transformers, whilst the advent of broadcasting and the subsequent demand for wireless receiving-sets called for large quantities of small electrical stampings".
The company also seems to have continued its attempt to have "a cordial relationship subsisting between the firm and its employees" for on 6th June 1936 a new sports ground was opened:
| | | | |
| --- | --- | --- | --- |
| | This copy of the programme (by courtesy of Reg Aston) also indicates that there was a Sports and Social Club, sports teams and a brass band. There were long service medals to be presented to people from all four centres, something which reflects the old idea that a job was for life and, perhaps after a fair bit of moving around in younger days, people settled into one job and stayed there. | | The reverse of the programme shows the sports ground between Dudley Street and Bankfield Road, Bilston (north is not at the top of this map); that the ground had a pavilion - and a car park that would doubtless soon become too small - and a miniature golf course. |
Sankeys had always been into export in a big way. In 1943 they set up Sankey Electrical Stampings Ltd. in Bombay (Mumbai) to produce electrical laminations. In 1950 another factory for electrical laminations was set up in Calcutta (Kolkata). In the same year an electrical laminations factory was started in Newcastle, Australia, and steel furniture factory was opened in Johannesburg. In 1952 a factory for both electrical laminations and steel furniture was opened in Canada.
| | | | |
| --- | --- | --- | --- |
| Electrical steel laminations at Bankfield | | Stainless steel hospital ware at the Albert Street works. (This and the next two pictures are from 1953). | |
| | Aircraft propeller components as Albert Street. According the the VCH, Sankeys co-operated with de Havillands during WWII in the development and production of jet engines. | advert from 1950 | Mills and Lewis also record that "following the closure of the Bilston Steel works, was Bilston's largest employer. However, hundreds of workers at the Albert Street brewery products, engineering works, vending machines and electrical laminations plants at Bankfields were made redundant during the 1980s in an effort to survive huge financial losses". Sankeys no longer exist in Bilston. Their local demise was a part of the collapse of manufacturing industry in the 1980s. The Morrisons superstore now stands on part of the old Sankey site. |
Mary Mills and Tracey Lewis (in "Bilston, Tettenhall and Wednesfield", Tempus, 1998, record that "by the 1950s Bankfield Works was described as the largest and best equipped in Europe for the production of laminations for the electrical and allied industries".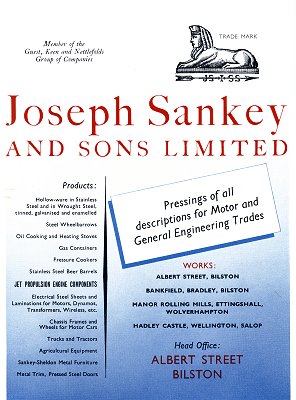 advert from 1953