THE BLACK COUNTRY MEMORIES CLUB
Black Country Memories Club




Stop Police




Wednesday 10th July 2013




Town Hall Bilston
The sun was shining, we had a good turn out and the microphones failed us, we couldn't hear the speaker, the camera went on the blink and more  Importantly we ran out of delicious cakes. If anything could go wrong, today's the day.   Several retired Police officers and staff joined us on this occasion, some of them brought along photographs and memorabilia, we had plenty of  photographs on display so although we couldn't hear the speaker at least we had something to look at.
| | | |
| --- | --- | --- |
| Members stuggling to hear the speaker | | Retired Police Officers and Staff pose with our Chaiman Alan Bickley |
| | | |
| This Police rattle is stamped 'Bilston' | Heavy Police shackles | Wartime tin hat and Truncheon |
Although our guest speaker, Trevor Lowebridge battled with the microphone he still managed to hold the audiences attention. Trevor joined the Police force in 1965 and spent his early years at Walsall, although he moved about at a later stage in his career.His wage in those early years was £9.17.6d. He went on to tell us that there was no radios in those days of course and the Police box and whistles were in use. Several retired Police offers  joined us today and they all had stories to tell and memories to share.
| | | |
| --- | --- | --- |
| One of the cells at Mount Pleasant Station. | Retired - PC Barton | The Moat? |
Mount Pleasant station was sold off and turned into flats, a great shame as it would have been an ideal venue for a Bilston Museum. PC Barton (Dick) helped to keep the tearaways off the street. Did the station have a moat ? no of course not, the so called moat was used for the prisoners excersise, there was also a door that led to the Superintendants house next door.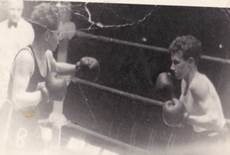 At Bilston Police Station, youngsters were trained to box by PC Barton who formed Bilston Police Boys Boxing Club. The boxer on the left of the picture is Eddie Bullows. The picture was taken at the town hall.

Thanks to all those that brought along memorabila, special thanks to our guest speaker retired officer,Trevor Lowebridge.
'Evenin All'
This (YouTube) Slide show shows a selection of Photos taken at our event on Wednesday 10th of July