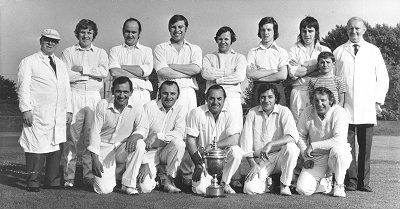 The men in the white coats are not identified but the rest are thought to be: in the back row, from left to right: Allen Higginson, John Brown, Richard Moroz, Graham Grice, Chris Bould, Phil Tong. But Greg Price says that the three in the back row, on the left, are Alan Higginson, John Brown and Ken - surname unknown but he was a mate of Alan Higginson. In the front row, from left to right, are: Colin Pugh, Ray Jenks, Arthur Hodgkiss, Howard Hodgkiss, Owen Hodson. The youngster is very likely Colin Pugh's son, as he was ever present for a number of seasons.
photo courtesy of Sheila McTaggart, information from John Brown. The Wolverhampton District cricket team, who had won the Annual Inter District Competition final. Date uncertain but early 1970s. This was a knockout competition held between all the district teams within the area. The final was usually held on the grounds of the Ocker Hill Sports and Social Club.

Back row, left to right: John Brown (Mains Engineer), Stewart Williams (Mains Engineer), Bill Harper (Street Lighting Dept.), Peter Greenway (Commercial Engineer), Jim Hannabus (Street Lighting), Mike Wilcox (Mains Engineer), Arthur Grainger (Street Lighting). Front row, left to right: Brian Lewis (Mains Engineer), Ray Jenks (Mains Engineer), Trevor Jones (Mains Engineer), Alf Jones (Wayleaves Officer), Eric Swift (Mains Engineer).
photo and information courtesy of John Brown. This is the Engineers and Street Lighting staff football team which played in the Wolverhampton District competitions. John Brown adds: "There were a number of knockout matches held annually between departments within the Wolverhampton District. A halt was finally brought to these when it was realised just how many broken bones, strains and bruises resulted from these over zealous games".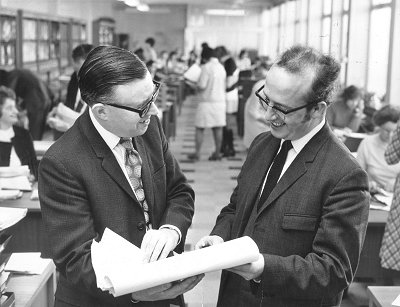 photo courtesy of Mike Ealey. Customer Services Office, late 1970s. Mike Cartwright and Mike Ealey in the foreground. On the left: Sheila Coles, Melvyn Fellows, John Kitching. In the middle, left to right: Robert Jones, Freda Buttery and others. On the right: Nancy Walker and Audry Lloyd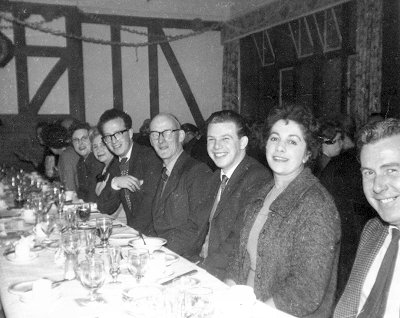 photo courtesy of Mike Ealey. The first Christmas Party organised by Consumer Records staff at the Black Horse, Thompsons Avenue, Wolverhampton, in 1962. Facing the camera, from left to right: Dot Hodges, Jessie Jarvis, Mick Ealey, Norman Lee, John Pugh, Zara Faherty, Bob Harding