MEMORIES of THE BLACK COUNTRY

Kathleen Kinsey
Working at the Quasi-Arc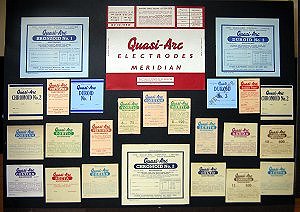 Reg Aston's collection of labels from Quasi-Arc products
I went to work for the Quasi-Arc in about 1955-56 when I was about 18 years old. Before then I had been working in Onions' factory making screws (not the Onions who made big levelling machines but the small one). I got paid £4 a week for that - Quasi-Arc paid me £10 a week. Not only was the pay a lot better, the factory and the working conditions were a lot cleaner too.
The hours were long. We worked from 7.30 a.m. to 6.00 pm five days a week and from 7.30 a.m. to 12 noon on Saturdays. You got an hour off for lunch. There was a staff canteen but I usually walked home everyday to Stowlawn. Mind you, the walk was so long that I only had about ten minutes at home when I got there. If there was any social club, I never noticed it - the hours were too long to have time for that!
I worked on Inspection. I, and a number of other girls, sat, each on our own conveyor belt. Along the belt came welding rods, straight from the machine which had made them. We had to check each one for cracks or other defects. When we found a wrong one we had to remove it from the belt. There as some relief from this work because everyone 15 minutes you had to check weigh a batch. If the weight was wrong you had to stop the whole line so the fault could be corrected. At the end of the day all the scrap you had removed from the line had to be bundled, tied up, weighed and entered into a book. And then you had to clean up your conveyor belt and work area.
Everything at the Quasi-Ar was very disciplined. I remember the Saturday when I went to collect a new coat I had ordered and I did not go in for work. On the Monday I was given a great dressing down and told that if it happened again I would be sacked. The company was German owned (though all the staff were local) and was run on very efficient and disciplined lines. We called it "the concentration camp"! But I did work there for about ten years! One rather odd thing about the place - so far as I know, no black person worked there the whole time I as there.