THE BLACK COUNTRY MEMORIES CLUB
FLICKS n FLEA PITS
Bilston Methodist Church
Bow Street
Bilston
6th July 2011
Most of us have memories of going to the local cinema so we decided it would be a good theme for an exhibition, and judging by the good turnout we had we were right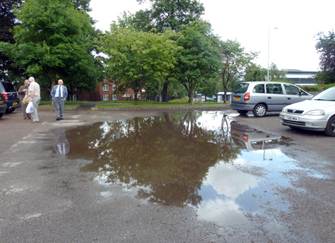 Although it was rather a wet day,
it didn't dampen the spirit of our visitors.
Like most other towns Bilston had its share of Cinemas. The earliest was probably the Electric Palace, owned by Bilston Electric Theatre Ltd. Films were later shown at the Town Hall by the Wood family who came to Bilston in 1910.
It wasn't long before the Wood family took on the lease of the Electric Palace. This was opposite the Town Hall, where Professor Wood also showed films. By 1921 the Alhambra Cinema on High Street had opened. Woods held had the lease until 1927. Opposite the Alhambra was the Savoy, yes you guessed it, this was also owned by the Woods. On the 17th November Woods Palace, Lichfield Street opened its doors. Sadly by then Joseph Wood had died and his son Thomas Reay Wood continued the business.
The Electric Cinema, Church Street,
the building still stands and is now 'the Angling Centre

This was once the Alhambra
The cinema was locally known as the 'flea pit
The newly restored Imperial Palace
This was once Wood's Palace
The Woods family lived at Mount Pleasant, Bilston. Their home still stands and is now the Bilston Conservative Club.
The garden gate to the front of the building bears the name 'Woodlands' although the gate is falling into disrepair lets hope the house does not.
Reg Summerfield surveying his wonderful display
Alma signs in the first visitor,
Mr. Bullock Kath and Barbara eagerly await the stampede
Roy and Jean Girdler talk to members
about their display. Roy had plenty of stories to tell
about his days as a Cinema Manager
Members listen intently to Tom Larkin's
account of 'The Flicks'
Trevor Johnson read some great poetry,
the audience were in fits of laughter,
much to Trevor's delight
Tom get the thumbs up from a visitor
A Collection of film memorabilia
Vintage film projector
Bill Pope and John Elwell
selling raffle tickets
some of the prizes on offer
Chairman Alan Bickley and Barbara Presland
end the afternoon with the raffle.
It seems a good afternoon was had by all, even the sun decided to shine.
Our thanks to all those that helped in the making of this exhibition, special guest appearance by Roy & Jean Girdler & Reg Summerfield
No biscuits were broken in the making of this production.