MEMORIES of THE BLACK COUNTRY
The Fight For Bilston by Tom Larkin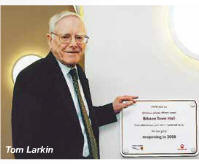 On the 2nd December 1965 the infamous West Midland Order Bill was approved by parliament This was only after the most distasteful sham debate imaginable before the whole hypocritical proceedings ended in a total shambles, when the argument that was so important to many Black Country residents was not pursued as it should have been to a democratic division and vote. This tame surrender was a truly unexpected let down and all the subsequent government propaganda proclaiming the imaginary benefits for communities failed to pacify protestors. They still maintained it was a scheme contrived by ambitious power hungry politicians and unelected civil servants solely for the purpose of more empire building.
Amazingly no local MP apart from John Stonehouse the controversial junior minister for Wednesbury attempted to give any plausible explanation for the extraordinary decision not to demand a vote be taken.Apparently the minister never intended speaking on the issue and made clear he would anyway have chosen to abstain. It's therefore only possible to speculate on what motivated other members not to press for a vote at the conclusion of the debate. These suspicions were vindicated in 1974 with the introduction of more unwanted changes that proved equally disastrous particularly the creation of a huge West Midlands County Council.
This greatly disliked municipal "white elephant" did nothing to improve people's lives but like most vast units of administration became remote, ineffective and very costly.The majority of the region's population rejoiced when it was abolished in March 1986 even so it appears nothing has been learned from the bitter confrontations concerning political interference with local communities.It seems as often happens, history is destined to be repeated exactly 50 years on from those unwanted forced amalgamation, but this time on a much larger scale.In an almost similar repetition politicians and bureaucrats are pursuing a further extension of their ludicrous "bigger is better" doctrine by attempting to establish a massive "West Midland combined authority".
This will be subject to strict government conditions mainly the election of mayor with authority for its overall management in addition he will have unheard of power to fix levels of taxation to finance the costly experiment. Just like the sixties no mandate exists for these changes, local Black Country Residents haven't been consulted or given the opportunity to express their opinions on the proposals, just what the cost of this extra unnecessary bureaucracy will be for individual household remains to be seen.
The protest to save Bilston's independence took on many forms. Ward Councillor and Fish & Chip shop owner, Bob Campbell, started serving chips in a paper bag, printed with the words; "If Wolverhampton take over, you've had your chips.

"A campaign was launched called 'Bilston For Bilstonians' and Bilston Defence Committee was formed. Members arranged for a symbolic coffin to be displayed in shops so that local people could donate to the cause. The coffin was later delivered to the town hall and plans were made to bury it in Hickman Park along with historical documents. Does anyone know if this happened? A protest petition also attracted more than 17,000 signatures.

However, all the efforts came to nothing and many of the town's councillors and aldermen sadly fell out of the picture altogether.Here's a photo of local girl, Carol Mountford, 16, in 1961, putting a coin in the coffin at a local shop.
Do you know where Carol is now? Let us know.