MEMORIES of THE BLACK COUNTRY
A HISTORY OF A SHORT, BLACK, BUTTONLESS COAT
WINIFRED AMPHLETT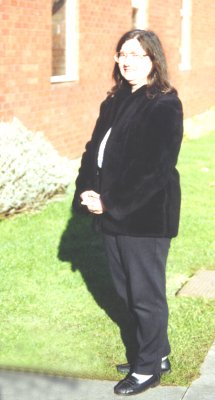 I bought this coat from Johnson's in Cemetrery Road, Willenhall, in March 1948. The shop was just a few doors away from where I worked at Bank's and Rushton's. Johnson's was a small shop, mainly a gentleman's tailor, but it also sold a small selection of good quality clothing for ladies.
You didn't always need the war-time clothing coupons for purchases but you had to pay a bit more. The coat, originally pale pink, cost £5 - quite a lot of money in those days.
I used it first as maternity wear and, as it was nice and loose, it was very comfortable. After my daughter, Coral, was born, in November 1948, the coat was still a great favourite of mine but the pink colour began to look a bit faded and a bit grubby. So I had it dyed a lovely golden brown and wore it, on and off, for a few years more, eventually retiring it to the wardrobe, still not wanting to discard it.
Sadly, in 1958, my father-in-law died and I was looking for something suitable for the funeral. Out came the coat and I had it dyed black. It looked as good as new again and was warm to wear on a cold January day as we stood in the churchyard. After a few more outings the revitalised coat was once again retired to the wardrobe.
Twenty years on I was having a sort out, thinking I really should throw the coat away, when my daughter spotted it and decided she liked it. She also wore it when she was expecting her son and, on occasions, over the years.
All in all I think it was a fiver well spent and over fifty years on there's still some wear left in the coat. Alas, my daughter and I are now too big to wear it!