THE BLACK COUNTRY MEMORIES CLUB
In Memorium Trevor Genge 1931 - 2012
Trevor was born in Lanesfield in 1931; he attended school locally and began his working life at John Thompsons. His desire was to be a teacher and so he began training. By the late 1960s Trevor had started work at Alder Coppice Primary School in Sedgley. He went on to become Head Teacher at Bamford School.
He later worked at Lanesfield Primary school and held the position of Head until his retirement in the 1990.
Trevor was a Sedgley man, committed to the area's welfare and to its history. A keen historian, he wrote several books.
As well as being a founder member of Sedgley Historical Society he was also one of the founder members of the
Black Country Memories Club where he held the position of President for several years until he retired
from the role in 2009.
Trevor will be greatly missed by so many people but he will always be remembered for his kindness, his notable speeches, his interesting talks, his enthusiasm, his anecdotes, his sense of humour and a smile that would brighten many a dull day.
Thank you Trevor for a truly remarkable legacy. God Bless.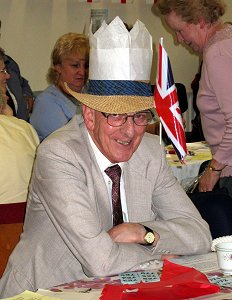 Trevor Genge